Traffic Violations And Florida Arrests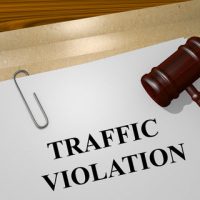 If you are pulled over in Florida and receive a ticket, what type of traffic ticket you receive will depend on the violation. Both civil and criminal traffic violations are possible. Civil traffic tickets typically result in fines. Points are also a civil ticket penalty. All of this and more could occur if you are arrested and receive a criminal ticket.
The details of your situation will impact what type of ticket you will be issued. For example, speeding is not criminal, but it could be if you were driving recklessly. Facing driving under the influence or reckless driving charges can lead to severe penalties.
If you have been arrested, connect with a Clearwater DUI defense lawyer to protect your freedom. Sharing your unique circumstance with an attorney as soon as possible could lead to charges being dismissed or a reduction in penalties.
Non-Criminal and Criminal Traffic Violations
Moving violations are typically not criminal, you will receive a civil traffic ticket. This could result from one or all of the following situations.
Speeding
Lane changes made improperly
Failing to yield
U-turns performed illegally
Violation connected to a stop sign or traffic light
But criminal charges are also possible. Often Florida residents think of felony charges only being possible when a violent crime is committed. Yet it is possible to be pulled over and be arrested, it could occur for any of the following reasons.
Driving with a suspended license
Leaving scene of a crash or running from police
Driving under the influence
Reckless driving
What consequences you are facing will depend on the specifics of the event and if there was property damage for personal injury in connection with your behavior.
Reckless driving penalties vary. First offenders involved in a traffic event with no injuries reported will likely receive up to $500 in fines and up to 90 jails in jail while a subsequent offender could be given up to six months in jail and a fine up to $1,000. When a reckless driving traffic event results in severe injuries, the penalties are even higher, including up to five years in prison, thousands of dollars in fines, and the suspension of the individual's driver's license.
Talk to a Lawyer About Your Civil or Criminal Traffic Ticket
If you have questions after receiving a ticket or being arrested for a vehicle-related offense, connect with  a Clearwater DUI defense lawyer. A skilled attorney will inform you of what options are available. Whether you have been arrested before could result in different defense options, for example.
Are you unsure of your rights after you were charged with a traffic offense in Florida? An experienced legal team can strategize the best defense for you once you share the details of your situation . When you need legal guidance, the lawyers at King Law Group will fight for you, whether the charges you are facing are serious or minor. You may have more options than you realize, but you won't know about them without talking to a legal expert. Schedule your free consultation today.