Cameron King
Tampa Bay Native Dedicated to Defending Florida Residents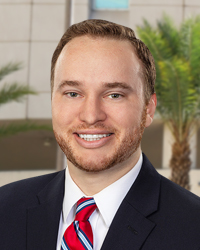 Cameron is a Tampa Bay Area native. He received his undergraduate business degree and his law degree from Florida State University. While at FSU, he specialized in Criminal Law, already planning for his future career as a criminal defense attorney.
From Prosecutor to Criminal Defense
Cameron began his legal career as a State Prosecutor in the 6th Judicial Circuit for Pinellas and Pasco counties. Cameron quickly learned how prosecutors analyze cases and identify the common legal issues that may exist in many arrests. It didn't take long for Cameron to be promoted to a felony prosecutor as he was recognized for his understanding of the law, attention to detail and ability to litigate. During his time as a prosecutor, Cameron handled thousands of cases from law enforcement investigation, negotiations, depositions and all the way to sentencing. Cameron handled all manner of cases ranging from Murder, Manslaughter and Armed Robbery to DUI, Drug Possession, Domestic Violence and everything in between. During his time as a prosecutor, Cameron learned what it takes to prove a case as well as many factors to look for that could result in a case that could cause a case to be dismissed.
After several years, Cameron left the State Attorney's Office in order to help those who have been arrested or accused of crimes. As a criminal defense lawyer, Cameron uses the knowledge he learned as a prosecutor to assist him in gaining favorable resolutions for his clients. He is able to easily recognize legal issues in the State's cases and effectively negotiate with prosecutors. Cameron strongly fights for his clients and has successfully gotten the majority of his cases dismissed, reduced or worked out for less than what the State Attorney's Office was initially seeking.
Through the course of his career, Cameron has gained vast experience in all manner of criminal law. Not only has Cameron handled thousands of cases from a wide variety of criminal charges, he has also litigated dozens of trials and was successful in every single one of them.
Just Ask His Former Clients
The true testament of an attorney's merit is the satisfaction of his clients, and King Law Group founder Cameron King has countless satisfied former clients. Not only have his former clients praised him as a "tenacious fighter," securing them the most favorable outcomes available in their cases; they also emphasize his dedication to making sure his clients stay informed, feel heard, and know what the case is really about. Clients call him an honest, straight-shooting attorney, available to take their questions seven days a week.
With Clearwater criminal defense attorney Cameron King, you do not just get an effective advocate, you get a compassionate, seasoned adviser and a true friend in your corner. Cameron will fight for your rights and remain by your side every step of the way.
About King Law Group
Cameron King founded King Law Group to provide dedicated criminal defense for the residents of the Tampa Bay Area. Cameron wanted to ensure his practice was solely focused on criminal law in order to offer experienced, consistent, and personally-tailored legal advice and representation to the people in his community. King Law Group represents defendants charged with all manner of crimes, whether misdemeanors or felonies, whether alleged against adults or juveniles and regardless of the circumstances of the client. King Law Group handles every facet of a criminal case from a law enforcement investigation all the way beyond a final resolution of any criminal proceedings. This includes bail hearings, plea negotiations, depositions, motions, arrest expungement and more. If you have been arrested or charged with a crime in Clearwater, New Port Richey, St. Petersburg, Tampa or anywhere in the Tampa Bay Area, King Law Group is ready for your call.
On a Personal Note
King Law Group founder Cameron King is not just a passionate criminal law advocate; he's also a devoted family man. When not practicing law, Cameron enjoys spending time with his wife and family, especially when they get to travel and revel in new experiences.
Call Clearwater Criminal Defense Lawyer Cameron King for Help With a Florida Criminal Law Matter
If you or someone you care about has been arrested, or if you have any questions about a matter of Florida criminal law, Cameron would love to hear from you. Please call 727-538-4265 or contact us online.