Florida Minors And DUI Charges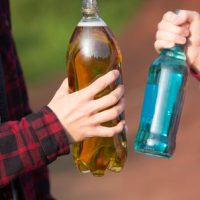 Minor DUIs fall under zero tolerance policy rules in the state of Florida. Driving under the influence in these situations is zero tolerance because it is illegal to drink alcohol if you are under 21 years old. If you are operating a motor vehicle, be it a motorcycle, car, or boat, and have a blood alcohol level of .02, you can be cited with a DUI if you are underage. The .02 limit is lower than the .08 limit that is in place for individuals who are of legal age to consume alcohol.
You need an experienced underage DUI lawyer if you or your child was arrested for an under 21 DUI in Florida. Talk to a seasoned Clearwater DUI defense lawyer as soon as possible following a charge. The impacts of a DUI arrest can be severe and long-lasting, it is important you understand what options are available to you and your family as the process moves forward.
Penalties for Underage DUIs in Florida
There are a range of serious consequences for an underage DUI conviction. Under Florida law, the underage individual will not face jail time, but they can still receive penalties that are expensive and require significant life adjustments.
Conviction could lead to the following:
Driver's license suspension. Up to six months for a first offense and up to 12 months for subsequent convictions.
Mandatory alcohol course. This is especially true if the person's blood alcohol concentration was .05 or higher.
Significant monetary fines.
Requirements to complete probation or community service hours.
The Florida Department of Highway Safety oversees the process of underage DUIs in Florida and a skilled attorney can assess the situation to determine if there is any possibility of having the changes dismissed. There needs to be probable cause to legally stop a person on suspicion of alcohol or drug use. Also, sobriety tests need to be administered correctly. Failure to follow appropriate protocol could lead to the case being dismissed.
Discuss Your Case with a Qualified Attorney
Florida has many attorneys who are trained and experienced in many different areas of law. After an underage DUI arrest, you need an attorney who understands what options are available and knows how to challenge field sobriety tests, if that is a possibility. There have even been times when how a chemical test was administered or stored can be called into question.
Once you share the details of your case with a Clearwater DUI defense lawyer, they can recommend next steps. First offenses could lead to more options, there are more severe consequences for second, third, and fourth offenses.
Is it unclear to you how to fight an underage Florida DUI arrest for yourself or your child? The experienced team at King Law Group has the knowledge you need. An underage charge for being under the influence of alcohol or drug has unique considerations. To understand what options are available for you and your family, connect with our compassionate legal team. Schedule your free consultation today.