Telehealth And Criminal Charges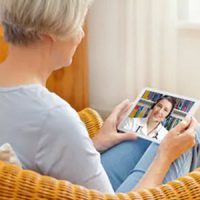 Telehealth. sometimes referred to as  telemedicine, is a way for people to access healthcare without having to attend in-person appointments. These appointments typically take place online, with the patient accessing care through their laptop, smartphone, or tablet. Telemedicine has become increasingly popular in recent years as it gives patients access to healthcare professionals from the comfort of their own homes.
In addition to care being provided through online resources, crimes can occur in connection with telehealth, and penalties for telemedicine-related crimes can be severe. If you have been charged with a telemedicine offense, or believe you will be soon, speak to a Clearwater criminal defense lawyer.
Examples of Telemedicine Crimes
A range of telehealth crimes have comes to light in recent years, such as:
Prescription fraud. A common telemedicine crime is prescription fraud. This occurs when a healthcare provider prescribes a drug or medication without conducting a proper examination of the patient or without a legitimate medical purpose. Then, in some cases, individuals use telemedicine services to obtain prescription medications that can be sold or abused.
Identity theft. Telemedicine services may also be targeted by identity thieves who use stolen personal information to obtain healthcare services, prescription medications, or financial resources.
Telemedicine fraud. Fraud can be complicated and takes many forms, but typically telemedicine fraud involves a healthcare provider submitting false claims for reimbursement to insurance companies or government healthcare programs. This may include billing for services that were never provided, submitting claims for services that are not covered, or engaging in kickback schemes with other providers.
Medical malpractice. If a person who is seeking help receives substandard care, telemedicine services may be subject to medical malpractice claims. This could include misdiagnosis, failure to diagnose, or providing treatment that causes harm to the patient.
If you have been accused of a telemedicine-related offense, it is important to speak with a legal professional as soon as possible. A skilled lawyer can help you understand your rights.
Accusations of Fraud and Theft
Accusations of prescription fraud, identity theft, and telemedicine fraud are serious charges. If you are facing criminal charges related to telemedicine, it is important to work with a Clearwater criminal defense lawyer who understands the complexities of these cases.
When talking to potential attorneys, ask about their track record when it comes to defending clients accused of healthcare fraud, prescription fraud, and other online criminal charges. Doing your research will ensure you connect with a legal expert who has the skills to protect your rights and fight for the best possible outcome in your case.
Who can you talk to after being accused of an online crime? Whether the charges you are facing are connected to a telehealth provider or another online service, you need a legal expert on your side. Criminal charges can be complicated, but the legal team at King Law Group can discuss possible defense strategies. Once they are familiar with the facts of your case, they can share paths forward with you. To get started, schedule your free consultation.